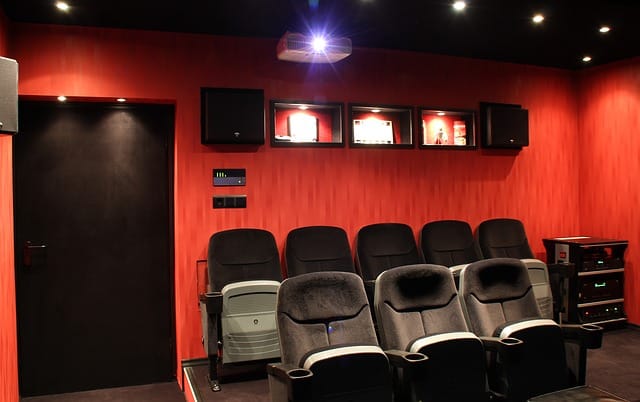 A home audio visual installation is a crucial part of the home theater experience, which might be in the cards if you have ever fantasized of enjoying the biggest blockbusters from the privacy of your own home. Imagine the following:
Pause a movie in the living room, then continue watching it in the bedroom
Host a house party where the music plays seamlessly from every part of the house
Control all the entertainment devices inside the house from a single room
The above capabilities are possible if your home theater is integrated in a home automation system. But before you even consider that kind of full home audio visual installation, there are a few things that must be factored in.
A Full Home Audio Visual Installation Requires a Qualified AV Installer
A home theater system, especially one that covers the whole house and includes home automation, is more than just buying TVs and hooking them up to a speaker set. You need the skills of an electrician, a carpenter, and an A/V technician. In which case, your best bet is to hire a professional installer like Digital Integration. Other than that, you need to consider the following:
Location
Location is an important factor because it will affect everything from the acoustics, to the wiring, and even the how it fits with your interior design. The requirements will differ depending on the house, so this is something that you need to take up with the installers.
Get the Right Wires for the Job
Many homeowners make the mistake in this part, thinking that as long as the cord or jack fits and sound is coming out, they're in the clear. The wrong sized wiring in everything will cause trouble. At best, you get poor A/V quality. At worst, it could lead to a fire. This is where hiring professionals like Digital Integration becomes important. They will make sure that every single component in your home audio visual installation is up to specs, and the system itself is fully compliant with safety standards.
Don't Sacrifice Quality
We all want to save money, and that is a perfectly valid goal. But when it comes to home audio visual installation, you should not equate "cheap" for cost-efficiency. Price is not the end all and be all. What you save on money might be at the cost of an important safety feature or a huge amount of A/V clarity. If you want the most cost-efficient setup, you should contact Digital Integration and we'll help you design a quality home theater system build around your budget.